When thinking about public speaking, let's be honest, many of us feel a chill down their spine. It is something that few people are naturally comfortable with, but it is something that almost everyone needs to deal with on a regular basis.
Public speaking is at the center of many situations, either in your professional career or in private life. For example; making a presentation in front of your team, giving a birthday speech to your friends or joining a podcast or panel discussion are all situations that we may face.

Public Speaking is an Art and Art Needs Practice
Of course there are many ways to learn the art of public speaking. You can for instance take a masterclass or an online course, but if you really mean business about being a good speaker, you will need tons of practice. Public speaking is an art and knowing the 'theory' will certainly not enable you to master a real life situation.
Techniques and behavior need to flow like you're in autopilot mode. For example, imagine that you want to become a pro-boxer, do you think it would be wise to attend a few training sessions and then sign-up for a pro-fight? Certainly not. Practice makes (almost) perfect and the more you get the better your ability to deal with a real situation. I remember joining a one day public speaking seminar sponsored by a former employer. We learned a few tricks and practiced them together. It was certainly a good experience but it stopped there. There was no follow-up to make sure we would consistently improve our skills and really become better speakers.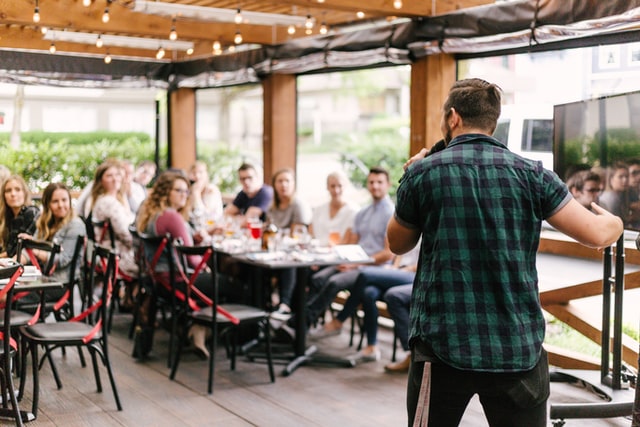 Now, how can you avoid this and make sure you keep training and improving your public speaking skills? Certainly there might be some public speaking clubs in your area. That's not a bad start, however you might quickly run out of depth or struggle to find the right people.
Another option is to meet like-minded people online and start a group together to focus on practicing. Online communications methods are now so well developed that this ought to be the future of learning. Small groups offer many possibilities to collaborate effectively. The benefits of learning in small groups have long been proven.
Examples of how you can improve your public speaking skills in small groups
Share resources and content. Analyze and discuss.
Imagine for example that one person shares and analyzes a speech made by Steve Jobs, another one reads the classic 'The Quick And Easy Way To Effective Speaking' by Dale Carnegie and you take a workshop on online speaking techniques. You can pull all these resources together and share your knowledge. You can then explain what you learnt to others and decide together what you would like to practice.
Practice without concerns
Practicing in a small group with like-minded people allows you to try things out without having to worry about doing things wrong or any consequences. Let your creativity and ideas run free while experimenting with techniques by simulating situations.
Review experiences with your pals
After you have tested your public speaking skills within your group, try it out in a real-life situation. And finally, share your experiences with your group mates. That way, you will be able to take advantage of group synergies and further improve your abilities.
Create your own negotiation best practice
After a long collaboration with your group and lengthy practice, you might even decide to create your own public speaking best practices and inspire other people to up-skill!
Each Member Brings a Unique Perspective to the Table
Even if the members of your public speaking group are not specialized in different aspects of the art, they can still see things in a different way than you do. It's always fascinating how people can solve the same task in a totally different way. Since public speaking involves dealing with all kinds of people, it's also good to have a multitude of different viewpoints when practicing. Last but not least, improving skills is a lot about simulating situations and role play. Together in a group it's way easier to come up with many different ways to talk to practice and finally apply it in real life.
Besides from your knowledge, personality and time you can also pool your financial resources. For some it might be too much to spend 2000 bucks on an online course. With a group of five you can decide to share resources and get more for less.
How Vennquest Can Help You to Find and Manage Your Group
We created Vennquest to make it easy to start or find groups for practical projects in many different areas. If you're curious to see how much easier it is to practice skills together in groups then why don't you sign up and join a group that interests you. We will immediately be in contact with you and help you to find some group members and to get the whole thing started. Join our beta test phase now and finally get the practice that you need to do the things you always wanted to do.
Sign up for Vennquest here:

Or learn more about our Public Speaking Practice group: